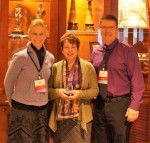 Congratulations to Debora Denny, the 2018 NMA Friend of Mediation Award Winner
The Friend of Mediation Award is an annual award given by the Nebraska Mediation Association to a person who has made a major contribution to the field of mediation through dedicated leadership in the field, the furthering of the profession or establishing a greater vision for the use of mediation in Nebraska. For 2018, the Friend of Mediation Award recipient is Debora Denny.
Debora founded the Nebraska Justice Center in 1991. She has been a champion of alternative dispute resolution in the State. Debora has been instrumental in designing basic and family mediation training programs, working on legislation relating to mediation, including the Nebraska Parenting Act. Since 2005, she has been the Director of the Office of Dispute Resolution in the State Court Administrator's Office. Most recently, Debora has spearheaded the rollout of Victim Youth Conferencing across the state after a successful pilot program in which the data supports the use of Youth Restorative Justice in terms of reduced recidivism and cost savings.