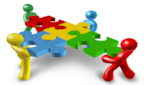 Committees Hard at Work
A goal of NMA for 2017 for active involvement with the members.  This was achieved through the recruitment of members to serve on NMA's four standing committees: Annual Meeting, Communication, Continuing Education, Legislative and Member Services. All committees have reviewed their purpose and developed action plans that are being carried out, as outlined below. Members are welcome to join a committee at any time. If you are interested in serving on a committee, send an email to Kelly Riley.
Annual Meeting: This committee has been working on the planning of the 2018 conference. In addition to identifying a location, dates, and the primary speaker, members of the committee will also be developing networking opportunities during the Annual Meeting/Conference and reviewing the previous year's evaluations to identify improvements that can be made to make the conference a valuable experience.
Communication: The Communication Committee is responsible for both internal and external communication. In regards to internal communication, the committee members discussed newsletter format (i.e., standard PDF document vs. digital summary with links to full articles). It was decided to return to the digital format via email with an introductory paragraph for each article that readers can then click to read more, if interested. The Committee also briefly discussed external communication in relation to promoting training, highlighting groups to target and the need for a social media presence. 
Continuing Education: Based on feedback received from members, this committee identified four webinar topics: Feedback, Starting a Mediation Practice, Mediation Refresher, and Facilitation. Watch for these webinars to be scheduled in early 2018. All NMA webinars are recorded and added to the archive. Have you checked out the webinar archive on the new website? They are now organized by general CMEs, ethics, and DIPA/High Conflict. Also, the link to the respective CME quiz is now available so it is easier to access. 
Legislative: This committee met in November to discuss possible upcoming legislation and develop a plan to keep watch on new bills introduced in the next legislative session. This committee will be more active when the Legislature is in session. 
Member Services: The members of this committee have been discussing ways that members can engage with each other, with the support of NMA. Across the state, there is a wealth of knowledge and tremendous passion for mediation. The committee developed a toolkit to assist with grassroots work across the state for networking with peers. Also, the committee implemented case studies that allow mediators to confidentially discuss ethical dilemmas faced in the practice of mediation.