Heartland Regional Conference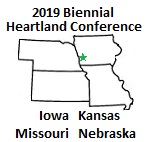 The 2019 Biennial Heartland conference will be held May 2 & 3, 2019. The speaker for the 1 1/2 day conference is Katherine Miller with The Center for Understanding in Conflict (http://understandinginconflict.org/). Ms. Miller's presentation is titled "Facilitating Conversations of Consequence – Advanced Mediation & Conflict Training."
The conference begins at 1:00 p.m CST on Thursday, May 2, and concludes at 4:00 p.m. CST on Friday, May 3. The conference has been submitted to the Nebraska Office of Dispute Resolution for 10.5 Continuing Mediator Education (CME) hours.
Biography: Katherine Eisold Miller is an attorney practicing mediation and collaborative practice in Westchester County, NY. She has been practicing family law since 1987, first as a litigator and now exclusively outside the court system. She has taught family law at the White Institute and NYU as well as with the Center and lectures regularly on mediation and collaborative practice. She is a Board member of the New York Association of Collaborative Professionals.
The full conference program, Ms. Miller's complete biography, and hotel information is available on the conference web page.
The Overarching Concepts of the Training are:
• What and How
• Facilitating Meaningful Communication
• Going under the problem
• Mediator's Inner Awareness
• Sub Issues -- Conflict trap, Bifocal vision, Reducing pressure
Topics that will be covered:
• Attitudes towards conflict
• What goes on inside of the mediator
• Mediator Understanding the parties
• Parties understanding each other
The presentation will be a combination of lecture, discussion, and interactive exercises.
Registration fees:
Early bird pricing available until April 19, 2019. On April 20, all prices will increase by $40.
Members of the four Heartland organizations (Iowa, Kansas, Missouri, Nebraska) qualify for member pricing.
Full Conference - Member: $125
Thursday only - Member: $80
Friday only - Member: $100