Our Mission & Purpose
Nebraska Mediation Association's (NMA's) mission is to promote creative and constructive engagement through professional development, collaborative partnerships, facilitation, mediation, restorative justice, and conflict engagement training to practitioners, professionals, and others throughout the State of Nebraska.
---
CME &CLE Opportunity!
This CME opportunity will be held via Zoom on January 30th, 2024 from Noon to 1:30 CT.
CLEs have also been approved and the CLE # will be provided during the training.
To sign up for this training, please fill out the following Microsoft Form: https://forms.office.com/g/E9bydKW6B6
This training will cover:
Adult & Child Abuse & Neglect Indicators
DIPA (Domestic Intimate Partner Abuse) Indicators
Data points regarding abuse and neglect and DIPA
Guidance on making hotline reports regarding abuse or neglect
Incorporating safety planning, safe exchanges, etc. in parenting plans
Resources available related to abuse, neglect and DIPA
Presenter: Nicole Britten
---
Save the Date!
We'd love to see you at the 2024 NMA Annual Conference! Mark your calendars now:
Thursday, April 11th & Friday, April 12th 2024
Please be sure you've added info@nemediation.org to your trusted sender list to ensure you get communications early about all upcoming events.
---
Book Club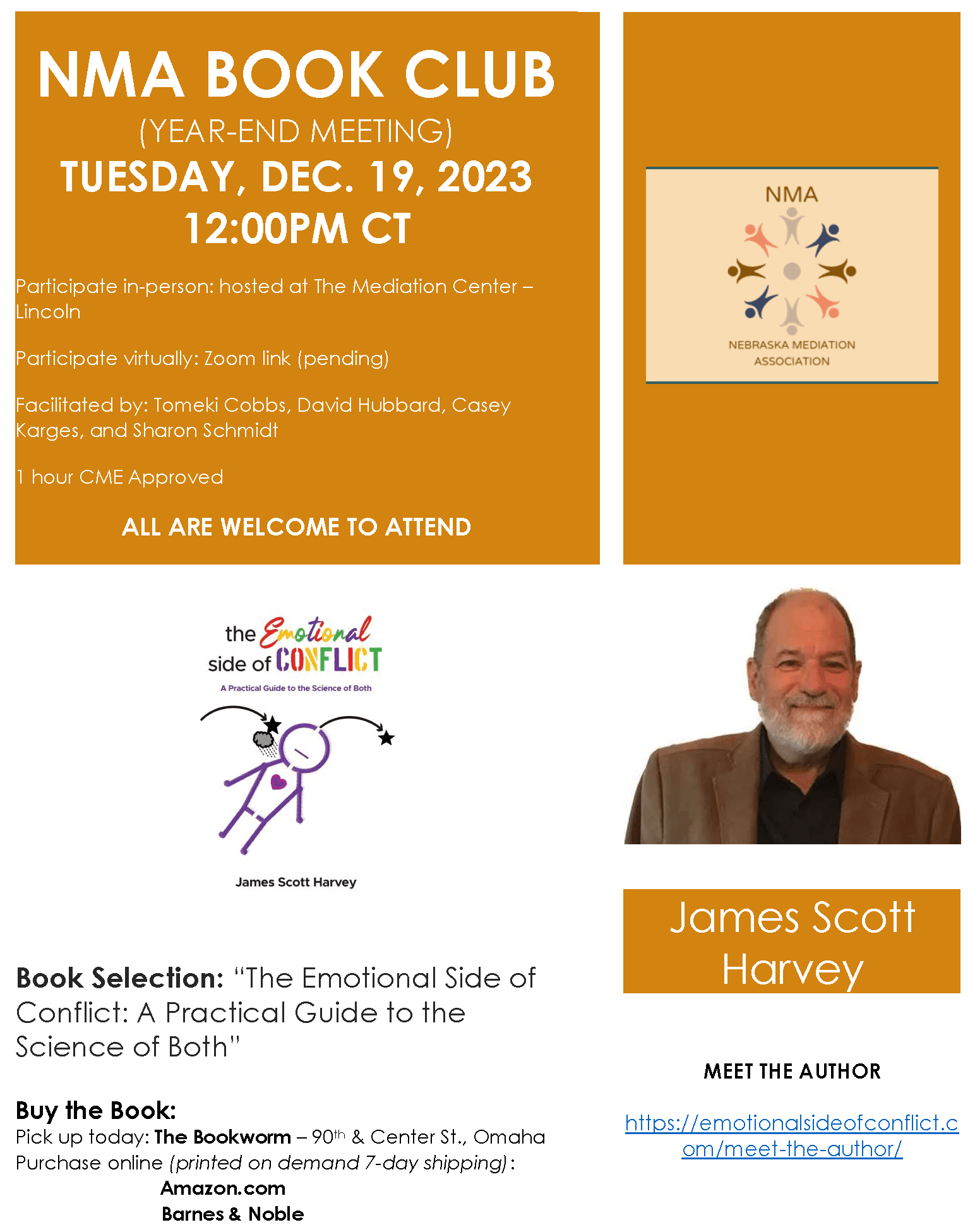 ---
Click here for more information

on Basic Mediation Training.

Family Mediation Training

Next expected virtual training: March/April 2024.

Registrants must attend every session*

Click here for more information

on Family Mediation Training

*Licensed Nebraska attorneys

may apply for a waiver

of the sections of the training

that apply to

Neb. Rev. Stat. § 43-2938 (2) (a) and (b).